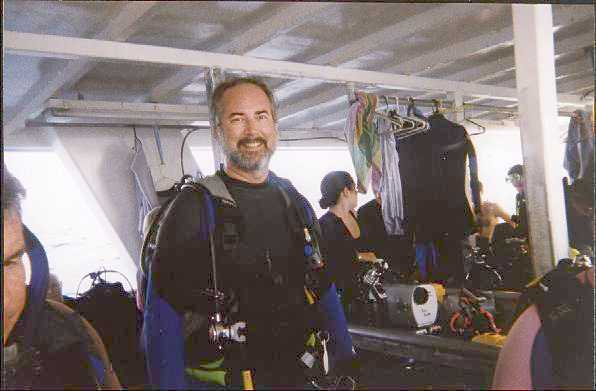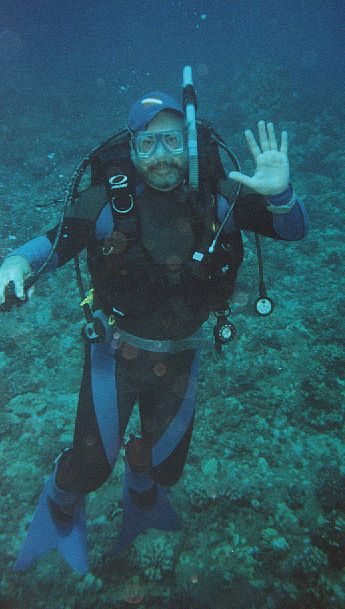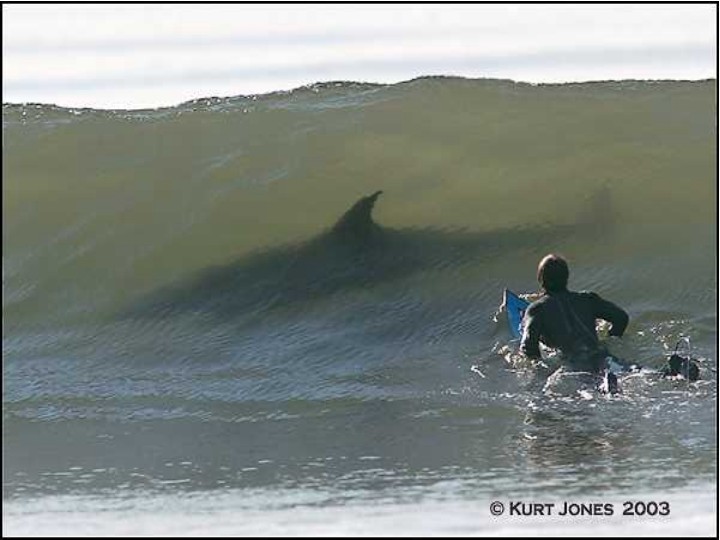 Dave Morris' Scuba Diving Page
"Scuba diving addiction makes heroin addiction look like a vague wish for something salty" - Dave Morris
If you are a scuba club or a dive operator, check out the new Internet Dive Reservation system that provides a mechanism for all your diving customers to view your trip schedule and book reservations online in real time, without your intervention!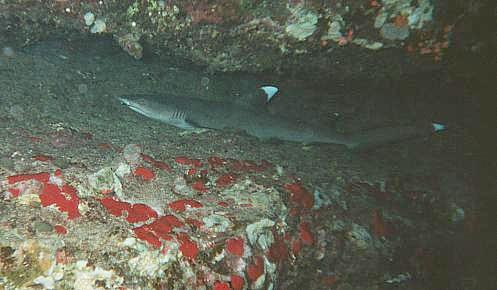 I am a P.A.D.I. certified Master Scuba Diver.
What I enjoy most (so far) is diving wrecks and swimming with the big animals! (So far, I've been up close and personal with Tiger Sharks, Whitetip and Blacktip Reef Sharks, Nurse Sharks, Sand Tiger Sharks, Dolphins, Spotted Eagle Rays, and a whole swarm of Manta Rays. I'm looking for more!)

Take a look at some of my underwater photos!

Some places I have been Scuba diving
Name
Location
State
Country
Depth
Interesting observations
Magic Island
Waikiki
HI
30ft
Turtles, puffer fish, moray eels, snake eels, lava tube
Koala Pipe
Oahu
HI
42ft
Octopus, moray eels, frog fish, huge abandoned pipeline that used to carry sewage from Honolulu out to sea
Turtle Canyon
Hawaii Kai, Oahu
HI
49ft
Turtles, octopus, moray eels
Kaena Point
Waianae, Oahu
HI
50ft
Ulua Cave
Oahu
HI
97ft
5ft white tip reef shark, turtles, large cave
Makaha Caverns
Oahu
HI
50ft
Incredible cavern diving, sea turtles galore
Makai Research Pier
Oahu
HI
20ft
7ft eel, night dive
Mahi Wreck
Waianae, Oahu
HI
95ft
Spotted eagle rays, dolphins, turtles, moray eel, huge schools of blue stripe snapper, big box fish. More pictures
5 Inch Reef
Waianae, Oahu
HI
40ft
2ft Samoa crab, pincushion urchins, pincushion sea star
Palea Point
Hawaii Kai, Oahu
HI
95ft
Fantastic 3 level wall dive
Sea Cave
Near Hanauma Bay, Oahu
HI
20-50ft
Great cavern, sea turtles
Texas Flower Gardens
Gulf, 110 mi S of Freeport
TX
80ft
Great live-aboard boat trip on the M/V Fling, lots of sealife
Stetson Bank
Gulf, 60 mi S of Freeport
TX
70ft
8ft nurse shark, stingray, eel, dolphin
GA 393 Oil Rig
Gulf, 17 mi S of Freeport
TX
60ft
Incredible sealife, like swimming in an aquarium!
Lake Travis
Austin
Texas
55
Lots of sunken boats, cars, a radome, and other junk to check out. Low vis.
Athens Scuba Park
Athens
Texas
20
Very good visibility! No plants or animals due to pH. Excellent fun diving. Lots of sunken airplanes, boats, cars, etc.
Santa Rosa, Paradiso, Tormentos, etc.
Cozumel
Mexico
120
Incredible place to dive. One of the best on the planet, no doubt. Divemasters that cater to your every desire.
Grand Cayman
Cayman Islands
Cayman
60
Fascinating tiny critters in the dense coral jungles. Excellent visibility.
Lanai
Lanai
Hawaii
60
The usual Hawaiian fish assortment
Molokini Crater
Maui
Hawaii
60
Whitetip Reef Sharks, turtles
Manta Ray Dives
Big Island
Hawaii
60
Fantastic night dive with the Giant Manta Rays!
St. Thomas
St. Thomas
US Virgin Islands
Papoose
About 2.5 hours off the coast
North Carolina
90-120
Torpedoed by U-124 during WWII. Photos here. Swam with about 12 very large sand tiger sharks!
U-352
N34° 13.682'/W76° 33.907'
North Carolina
100-115
This is a WWII German submarine, depth-charged by a Coast Guard ship in 1942. Photos here
USS Schurz
N34° 11.218'/W76° 36.127'
North Carolina
95-110
This gunboat sank in 1917 full of ammunition.Photos here
Suloide
In-shore
North Carolina
65
This wreck was blown to smithereens and cable-dragged due to the shallow depth of the ocean floor here, and it is scattered over a wide area
Molasses Reef
Key Largo
Florida Keys
25-40
Very colorful, very nice reef and a good shallow dive
US Coast Guard cutter Duane
Key Largo
Florida Keys
60-107
One of the better wreck dives I've ever been on, due to the size, condition, and number of swim-throughs
Minnie Breslaur, Mary Celestia
Bermuda
60
Shipwrecks, caverns, tubes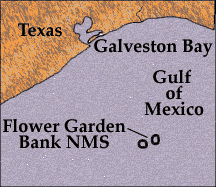 The Cheapest Fantastic Diving in Texas
When you think of diving in Texas, you invariably think of fresh-water lakes and quarries. (OK, OK, the term "fresh" is admittedly used VERY loosely around here.) But there is a way to get fantastic diving in the ocean for about $50 per dive! It's found on the M/V Fling and M/V Spree, operated by Gulf Diving (formerly Rinn Boats) in Freeport, Texas.

See U/W photos and video shot in the Flower Gardens in March 2003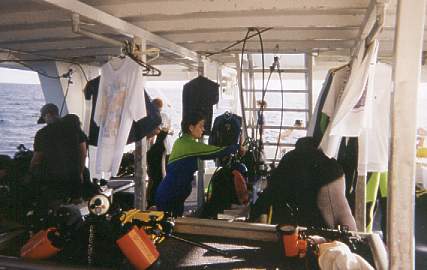 Several times a month from February to around September, you can board one of these 100 foot boats at about 10pm Friday night and wake up 110 miles out in the Gulf in the Flower Garden Banks National Marine Sanctuary.
You start out the morning at 6:30 suiting up, and proceed to do 2 dives in the morning, 2 dives in the afternoon, and 1 nighttime dive. Each dive is separated by a 2 1/2 hour surface interval of eating and talking with the 33 other divers who are sharing your adventure.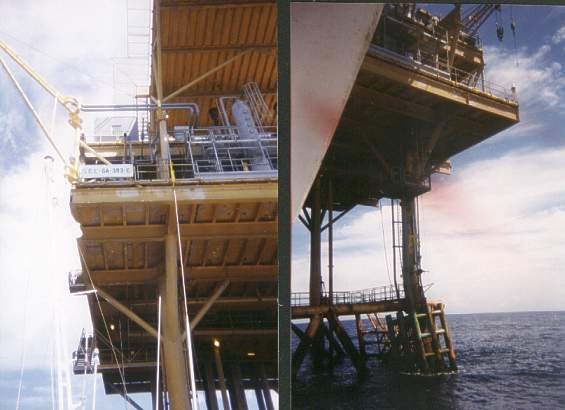 Then you go to sleep again and wake up Sunday morning to do 2 more dives at the Stetson Bank. On the return trip you may be able to make 1 more dive underneath an oil rig. (Oil rigs have been disappearing, and you may not get to dive one.)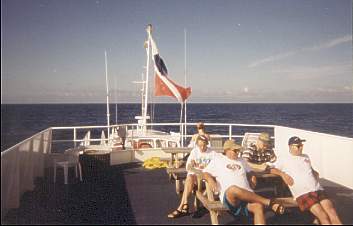 The boats have a nice sun deck where you can spend your surface intervals working on your tan while the wind keeps you cool. On my trip in June we spotted a dolphin and a waterspout off in the distance! On a March trip we spotted 22 hammerheads, tiger sharks, and some eagle rays.
All the food you can eat is provided free, and there are 2 captains and 2 divemasters on board to make the dives extremely safe. The only thing you have to bring is your dive gear and one tank. All air fills are free. Nitrox is available for an extra charge.
Where else can you get that kind of deal?

Some of the dive shops on the web that book Flower Gardens or Stetson Bank trips
Each trip is booked by several of these dive shops, which are each allotted a certain number of divers. So, even if one of the dive shops is sold out, try one of the others. And it doesn't matter if you live in the same town as the dive shop you book through or somewhere far away. They will be glad to book your trip even if you live in the Frozen North!
Dive Operators I Highly Recommend
Hawaii
Pacific Rim Divers, the BEST people to dive with on the Big Island of Hawaii!
Manta Ray Dives of Hawaii, Kailua-Kona, Hawaii
Lahaina Divers, Maui, Hawaii
Aaron's Dive Shop, Kailua, Oahu, HI - They can take you to any of the above Hawaii dive spots. Tell 'em Dave Morris sent ya!

Florida Keys
HMS Minnow, Key Largo - 6-pack with excellent reputation and customer service - Tell Jeff Jarvis that Dave Morris sent you
Texas
Gulf Diving - (formerly Rinn Boats) Dive the Flower Gardens, Stetson Bank, and oil rigs in the Gulf of Mexico on the M/V Fling or Spree!
Athens Scuba Park - Water temp, conditions, schedule of events in the best little hi-vis scuba diving lake around Dallas

North Carolina
Red, Wet, and Blue, North Carolina Wreck Diving with Kamala Shadduck

Scuba-related Links
Rodale Scuba Diving
Gear Buyer's Guide - Don't buy anything until you read the reviews

Other Goodies
Aquatrix, the first and only web-based Dive Reservation System
BuddyFinder.net, the most sophisticated Buddy Finder Network
LetsGetWet.com the Smart Divers' Surface Interval
Local Sunrise and Sunset Information
PADI - Professional Association of Diving Instructors
Web sites in the Scuba Ring
Tropical Adventures dive travel
Island Dive & Water Sports on Orcas Island, Washington
SeaSpace, Houston
Undersea Video Housings, makers of the best totally electronic, underwater housings for Sony camcorders

Temperature/Visibility/Sea Conditions:
---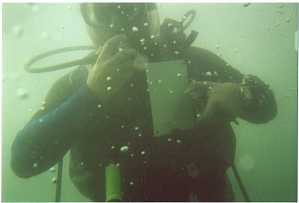 Lake Travis, Austin, Texas
See what Lake Travis looks like RIGHT NOW through a Webcam there.
Send me

E-mail


Return to Morris Family Page


Return to Dave's Page